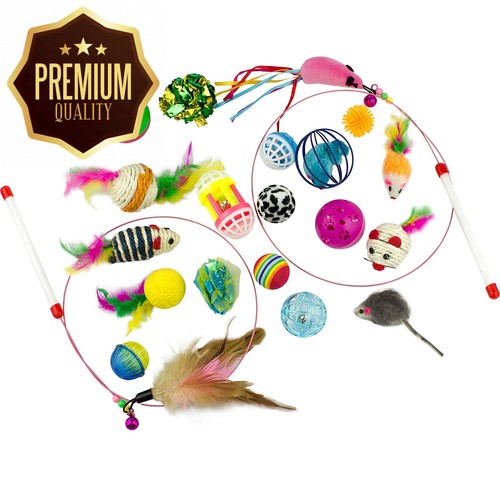 Click here to see similar items on eBay, and to buy.
Clever Claws Cat Toy Variety Pack, 20 Pieces Including Mice, Balls, Bells, Feathers and Wands
Product Details Item Weight: 240 g Package Dimensions: 30.4 x 16.4 x 8 cm Maximum Height Recommendation: 35 centimetres Quantity: 1 Batteries Required: No Batteries Included: No Specification Met: (unset) Shipping Weight: 240 g GREAT VARIETY: Clever Claws offers a high quality 20 piece cat toy variety pack. The pack includes: Wands, Bells, Balls, Mice and Feathers. These premium toys are great value for money and would make a great gift. A specific toy list can be found in the description. ENTERTAINMENT: Keep your cats intrigued with toys that they can't stop playing with. Your cat will be able to chase, catch and play with these toys for hours. This will hone their coordination, timing and balancing abilities. BONDING: A new environment can be a stressful place and these toys will help ease the nervousness of entering a new home. Build a bond of trust and companionship using the interactive toys. This pack provides a fun way to get your cat exercising and engaging with you no matter if they are a tiny kitten or an elderly cat. STORAGE: The toys arrive in a sturdy resealable bag that is perfect for storing your toys. SAFETY: Be happy in the knowledge that your cat is playing with toys made only from safe materials. Know that your cat is safe with or without your interaction. Clever Claws LTD is a British company, based in West Sussex, created with the purpose of creating quality pet products.
PACK CONTENTS:
1. Feather Wand (100 cm)
2. Mouse Wand (100 cm)
3. Weighted Ball with Interactive Mouse (11 cm)
4. Caged Ball with Bell (4.5 cm)
5. Small Fluffy Mouse with Feather Tail with Rattle (8 cm)
6. Stripy Rope Mouse with Feather Tail with Rattle (13 cm)
7. Merry Go Round with Bell (8 cm)
8. Caged Fluffy Mouse with Rattle (6.5 cm)
9. Paw Print Ball with bell (5 cm)
10. Round Rope Mouse with Feather Tail with Rattle (10 cm)
11. Multi-Coloured Crinkle (5 cm)
12. Soft Ball with Feathers (9.5 cm)
13. Glass Effect Ball with Bell (4.5 cm)
14. Small Rubber Ball (3 cm)
15. Crinkle (5 cm)
16. Rattling Rope ball with Feathers (15.5 cm)
17. Rainbow Ball (3.5 cm)
18. Squeaky Mouse (12.5 cm)
19. Small Caged ball with Bell (4.5 cm)
20. Leopard Print Ball with Rattle (4 cm)
*Colours may Vary*
Click here to buy, and to see similar items on eBay
---
Category: Pet Supplies:Cat Supplies:Toys
Location: Belper