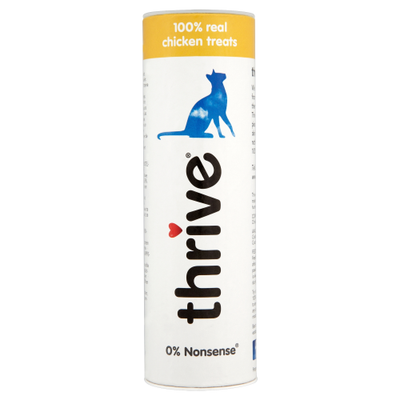 Click here to see similar items on eBay, and to buy.
Thrive 100% Adult Cat Treats Chicken 25g x 12 When you look at the ingredients most cat treats are anything but a treat. Thrive 100% Cat Treats are 100% Pure. Most cat treats are made with cereals and fillers which then have flavours, sugars and fats added to make them palatable to cats, some don't contain any real meat at all. Our cats love thrive treats beacuse they are really pieces of meat and fish. Thrive treats are not made with any derivatives or other rubbish, nothing sugary or fattening. We love the reaction we get from our cats when we give them thrive treats 100% freeze dried to lock in all the goodness Nothing added only the water has been gently removed Probably the most famously palatable cat treats on the planet Delivery information / Basket Order We are pleased to offer free shipping to all our eBay customers.
Delivery time You'll get your order in 3-5 business days. We process it as fast as we can and then hand it over to the delivery company. We don't have an express delivery service at the moment but we're working on it.
Where we deliver to We'll deliver to your home or work address, whatever's easiest for you. However, we don't currently deliver to the most hard-to-reach areas or addresses outside the UK. How to return your item We do everything we can to get your order to you safe and sound. However, if you do want to return something it's not a problem. Just return your item within 30 days of the despatch date, unused, in the state you received it, with all the original packaging intact:
1) Pack everything up securely, including the despatch note you received with your order.
2) Also include a quick note with the reason for your return.
3) Post back to us at the address below. It's a good idea to get proof of postage. The Post Office will give you this free of charge.
As soon as we receive the returned item we'll do a refund to the card you originally purchased with or to PayPal, where appropriate.
Monster Pet Supplies
Returns Department
Unit 7 Maple Park Industrial Estate
Low Fields Ave
Leeds
LS12 6HH
Exchanges Return your item following the steps above. Then simply place a new order for the items you want instead. As soon as we receive your returned item we'll do a full refund to the card you originally purchased with or to PayPal, where appropriate. We're a bit different, like your pet. Every pet has their own personality. We've known cats that hide their toys under the bed so you can't tidy them away. Dogs who'll repeatedly pounce on their own reflection in a puddle. These endearing little quirks make us love them for who they are. There's never another pet quite like your own.
So when we decided to open an online pet supplies shop, we knew it was more than okay to be a little bit different. Hopefully it would be something you would love us for. There's nothing bland or boring about a day spent with a pet. Why should shopping for them be any different?
Being different is what pet owners love us for If pets could choose, we hope they'd want their owners to shop at Monster Pet Supplies. Just like them, we do everything we can to make to make their owner happy. The biggest range of products and fantastic customer service As well as providing the biggest range of products we possibly can (about 20,000 at the last count) our customer service team is trained in customer happiness. And that's unique to Monster Pet Supplies.
We're going to be the UK's number one pet supplies website With your help, we're going to be the first place all pet owners turn for their pet supplies. We do our best by providing everything you need at the lowest price we can. If there's something else we can do, please get in touch. This is an online shop designed specifically for pet lovers so your opinion really does matter.
Click here to buy, and to see similar items on eBay
---
Category: Pet Supplies:Cat Supplies:Cat Food
Location: Leeds